Founders of Browns Educational Consultants: Jim Brown
Jim has been working with children, parents, and teachers for more than twenty years. As a teacher and school administrator at many independent schools, he has had the opportunity to work with a wide range of students of all school ages, some with learning challenges and others with exceptional academic ability. He has also worked both sides of the admissions process, helping students gain acceptance in day and boarding schools as well as meeting and evaluating prospective students and their parents.
Jim taught at Eagle Hill School. Additionally, he was the Dean of Students at Hackley School, Head of Middle School at the Browning School, and was the Assistant Head of School at the Stanwich School. While at Stanwich, Jim designed the academic program for grades 4-9. In addition, Jim acted as the secondary school placement person at Stanwich and placed many rising ninth-grade students into many of the local day schools and New England boarding schools.
Through these experiences, Jim developed many close relationships with administrators and teachers affiliated with these schools. Jim has a MA from Teachers College, Columbia University in Private School Leadership, and a BS in Elementary Education from the University of Maine.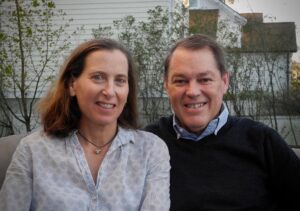 Founders of Browns Educational Consultants: Robin Brown
Robin's love for children and her ability to connect with them is obvious when you see her in action. She has a special ability to motivate reluctant learners and identify and capitalize on each child's strengths. Her more than twenty years of experience, coupled with her professional training, makes the difference for children.
Robin has been guiding students through the complete college application process. She has helped students craft their college essays and supplements, develop a list of schools to consider, and coached students with the interviews.
Robin graduated from the University of Rhode Island with a BS in Child Development and Counseling. She began her career teaching at the Eagle Hill School. With a passion for understanding children more deeply, she enrolled at Teachers College, Columbia University, where she received a MA in Reading and Educational Psychology. Robin worked as a Learning Specialist at Rye Country Day School. She taught at the Convent Sacred Heart School and was the "go-to" learning specialist at Brunswick School. Additionally, Robin taught reading and writing, worked on the admissions team evaluating students and guided teachers, administrators, and parents at the Stanwich School.
---
Browns Educational Consultants • [email protected] • [email protected]
203-661-2483 • 19 East Elm Street, Greenwich, CT 06830
---