While there is a lot of angst among adults, there are some positive changes happening as a result of this pandemic. For years, psychologists have been warning our society that we are not preparing children as well for the future. Levels of anxiety, depression, and self-helplessness have been rising among children. With everyone staying home, families are forced to make adjustments that are actually benefitting children's well-being.
Now, when the weather is nice, we see families crouched down in driveways creating works of art with colorful chalk. Baseballs are being thrown back and forth, hockey sticks are slapping balls into nets, soccer balls are dribbled around yards, an occasional chalked tennis court is lined out on a street, and basketballs are being shot at hoops in driveways. In a small wooded area near our house, there are two forts made of sticks. Attached to the two forts is a line with a bucket hanging in between, which appears to be some kind of makeshift pulley system. Children are out on bikes playing keep away or making obstacle courses out of the mailboxes and trees along the sides of streets. The three girls next door play in their lawn making up stories as they bounce their dolls through their garden. As educators, we are thrilled to see this type of play and interaction.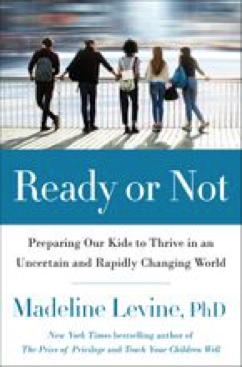 Children are happy and families are engaged. There are challenges to keeping everyone moving forward at times, but this creative play is a different scene than what we have witnessed during the past few years. In the past, we have walked around our neighborhood during a summer day and wondered, where all the children were. The lawns, swing sets, trampolines, and streets rarely had children playing on them.
For far too long, children have been spending the majority of their time in highly structured programs intended on strengthening their athletic, academic, or other extracurricular skills. All of these activities have value, but are generally driven by adults. The downtime for children to be creative on their own has been rare, but very much needed.
Research supports the notion that children need time to be creative, they need time to process the world and they need time to become more self-reliant. Madeline Levine, a psychologist, and professor at Stanford University wrote the book, The Price of Privilege, in 2006, where she warned parents in affluent communities that they may be setting their children up for failure. She stated that parents tend to be focused on giving their children every advantage possible to perform, whether that is in the classroom or athletic field, rather than helping children develop life skills. And, she points out, there is a cost.
Now in 2020, Madeline Levine's new book, Ready or Not identifies the skills students need for the uncertain future. Dr. Levine uses the latest developments in neuroscience and epigenetics along with research from scientists, military and business leaders, academics, futurists, and entrepreneurs. The results of her research state that, "soft skills, such as curiosity, creativity, flexibility, educated risk-taking, collaboration, perseverance, self-regulation, are key in today's world."
This pandemic has forced us to make changes within our communities, some of which, provide unexpected benefits for families. Children are learning exactly the kinds of skills they need for their future. They are problem-solving, learning to cooperate with siblings, and being flexible with their current environment. In essence, children are being ingenious, resilient and they are learning self-discovery, which has been missing in many of their day to day lives before this pandemic.
While we want this situation to pass, we also hope parents, schools, and other organizations who work with children will take into consideration the positive lessons children are learning. It's healthy and worthwhile to have time and space to figure out some of life's lessons without constant structure and direction. We are also hopeful children will look back at this time as a period of happiness, exploration, and where valuable memories were made with their families.